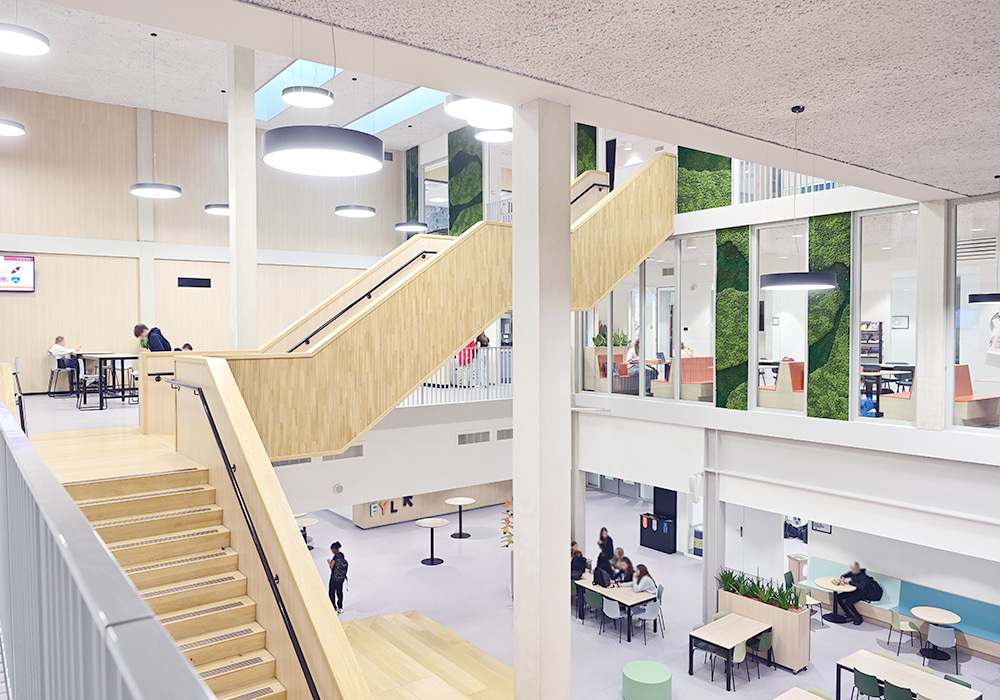 The task was not easy. An efficient and secure locking plan for the new Vocational Campus in Sommelsdijk. A building with three different owners where over a thousand pupils, students, teachers and other user groups use it every day. A flexible and secure digital access control system was installed for the Vocational Campus.

The Vocational campus on Langeweg in Sommelsdijk is home to six different schools, VMBO and MBO. The building is also used by entrepreneurs in the region and the Municipality of Goeree Overflakkee. The building is characterised by an open, light and safe structure with classrooms and various practical areas situated mainly on the outer sides. The vocational schools play an important role in the region and educate a large group of pupils and students from Zeeland and South Holland. In doing so, they actively contribute to the regional economy by preparing young professionals for careers in the technical, healthcare, green, hospitality and service sectors. Construction of the school building started in 2018 and the first building was delivered empty in early 2020. Diane van der Weijde, Occupational Campus Policy Advisor and project manager on behalf of the users during construction, says: "The users formed an Operations working group in preparation. From that working group, we decided, for example, to all use the same furniture and also to opt for one access control system," says Van der Weijde.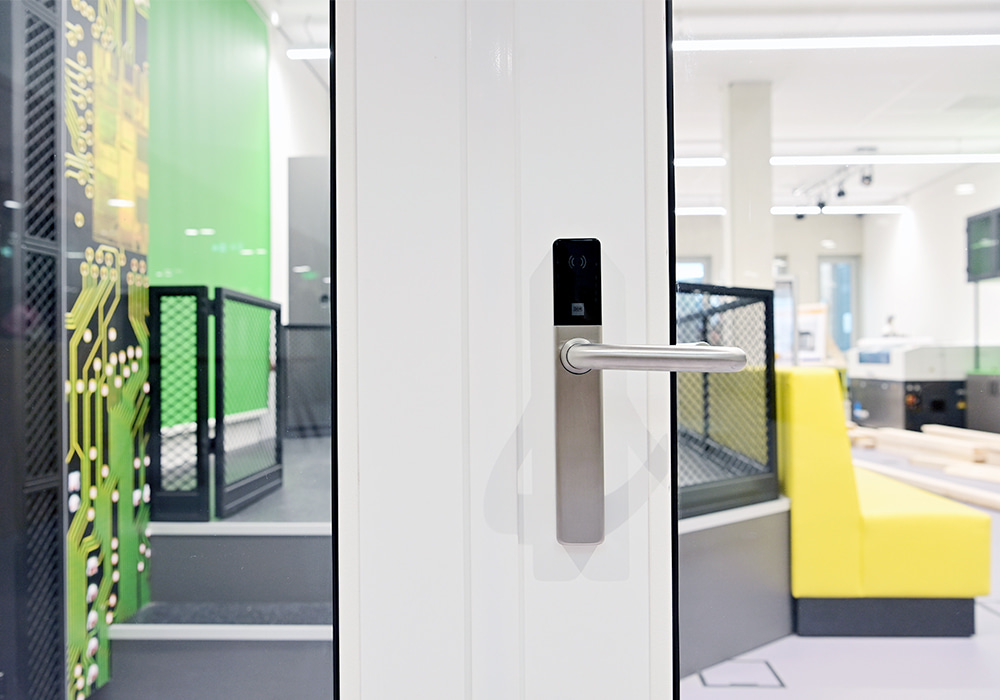 Student safety ensured
A key requirement for that access control system and the associated locking plan was two-sided. "We want to offer pupils and students optimum freedom in the places where they spend time outside classes. The canteen, central areas and toilets, for example. At the same time, classrooms, practical areas, lockers and other places have to be well locked." Van der Weijde gives an example. "In the practice room of the Building and Living profile, there are a lot of machines and tools. We don't want anyone to be able to just hang around there without a teacher present. But there are also knives and cookers in the large catering kitchen with bakery. Students are only allowed in there when they have lessons."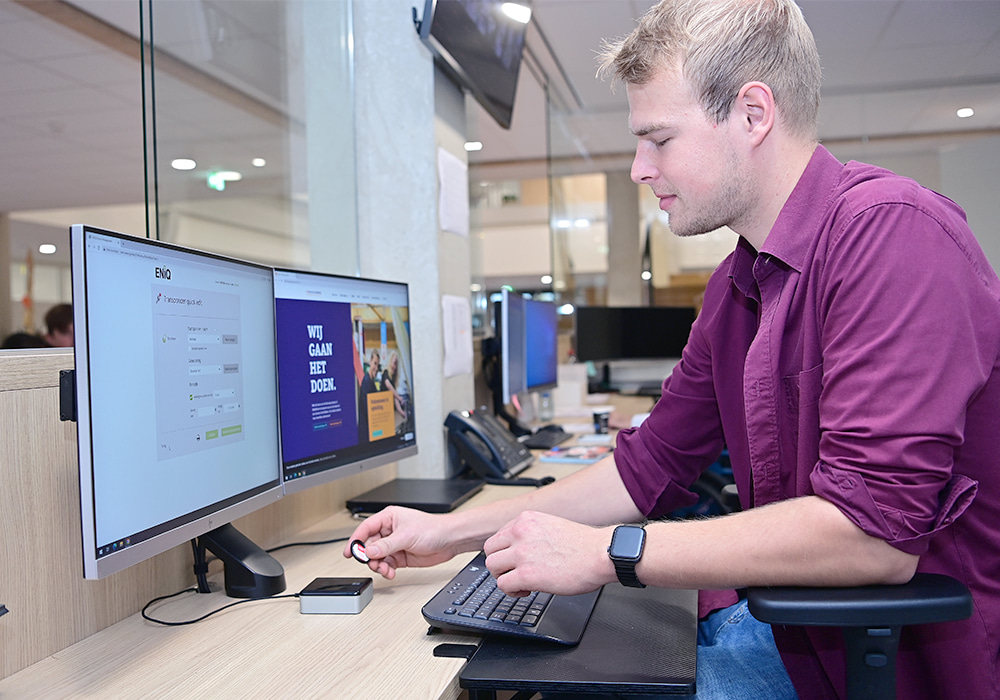 Digital door hardware on 184 doors
To close those rooms easily and securely, the digital DOM ENiQ® Guard door hardware was chosen. In doing so, they received advice from hardware specialist Johan van der Kooij of JVDK Consultancy. "The big advantage of the Guard hardware is that you only need to check it on the outside of the door. From the inside, the door can always simply be opened with the door handle," says Marcel Boel, Sales Manager Digital Access Control at DOM Netherlands. That convenience is not the only big plus of the so-called Offline Data on Card solution. The door hardware is battery-operated and therefore no wiring is needed. As a result, the system can be assembled and installed faster and without any structural modifications.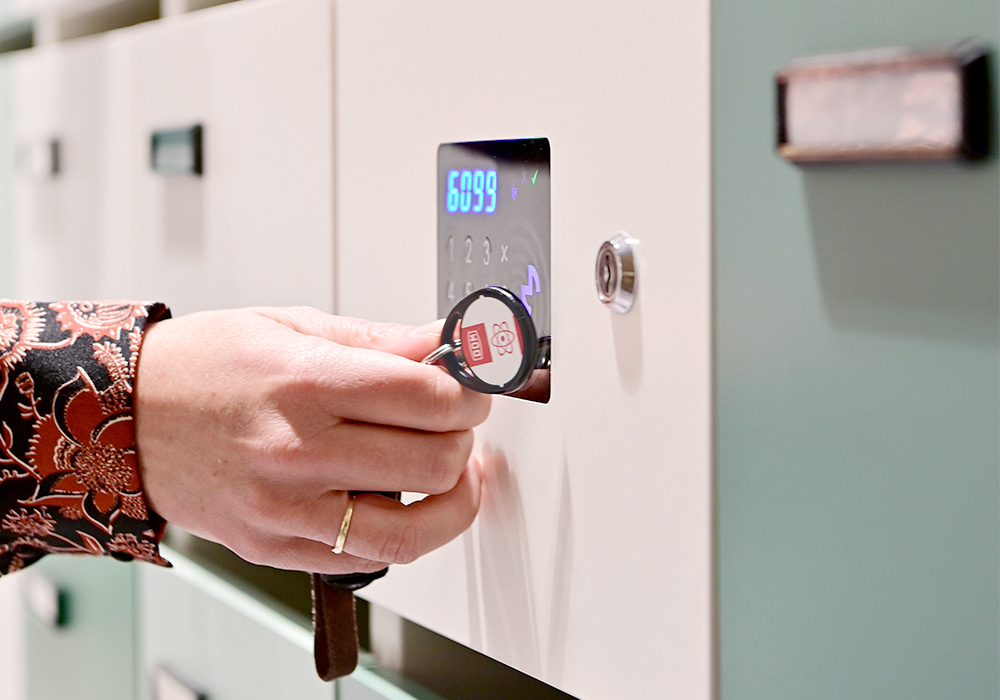 1 tag for classrooms, printers and lockers
By equipping only the doors of classrooms, staff toilets, lockers and practice rooms with the digital Guard door handles, only teachers and teaching support staff need a tag. Boel: "The tags are multifunctional. Not only do they give access to the classrooms and rooms they need to be in that day, the same tags can also be used to open personal lockers and control the printer." The rights on the tag automatically expire at the end of each school day. Upon entry, employees must first pass reception where they are assigned rights via an update reader on the counter. "A conscious choice," says Van der Weijde. "This way we keep control and the rights remain current. And if someone loses the tag, there are no more rights on it. So it is also, above all, a safe choice."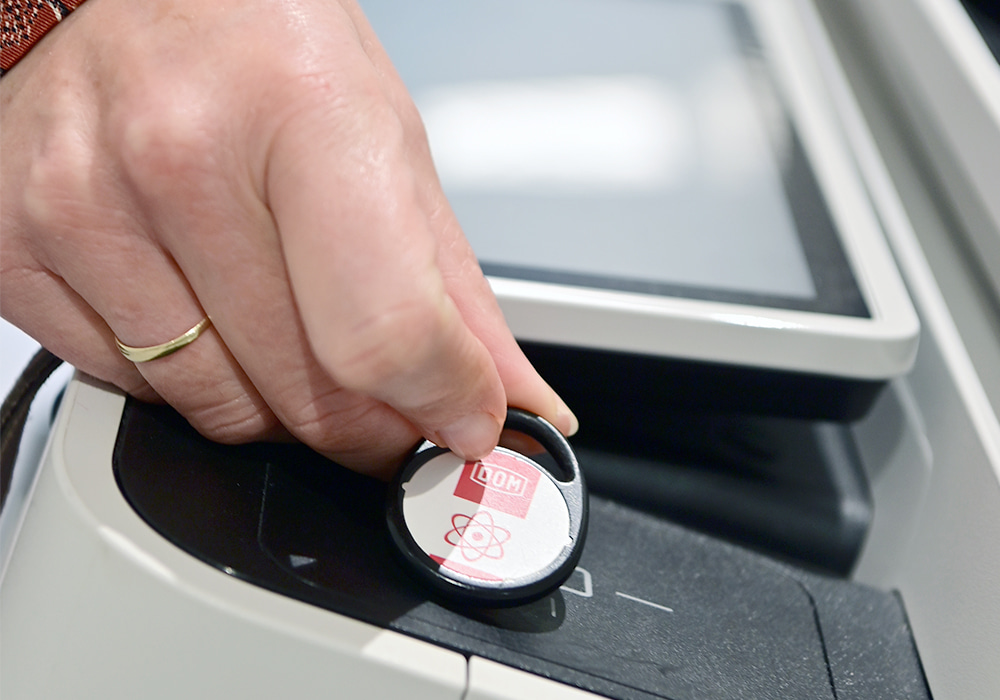 Flexible access across classrooms and insight in case of damage
Although the courses each have their own place within the building, each other's classrooms are regularly used. In those situations, the digital locking solution offers advantages. "Not only because you are flexible within the allocation and use of rooms, but you also know who last used a room or area. That can come in handy if things are damaged, for example." The Vocational Campus opted for an offline management system. "Our own administrators arrange the permissions and enter them here at school. This way, we are short on that process ourselves and can quickly adjust things if necessary. That works extremely pleasant so we have noticed." Boel adds that the system offers optimum security thanks to DOM's encryption. "The data on the tag is encrypted so that it only works within our system and cannot be used or copied by unauthorised people."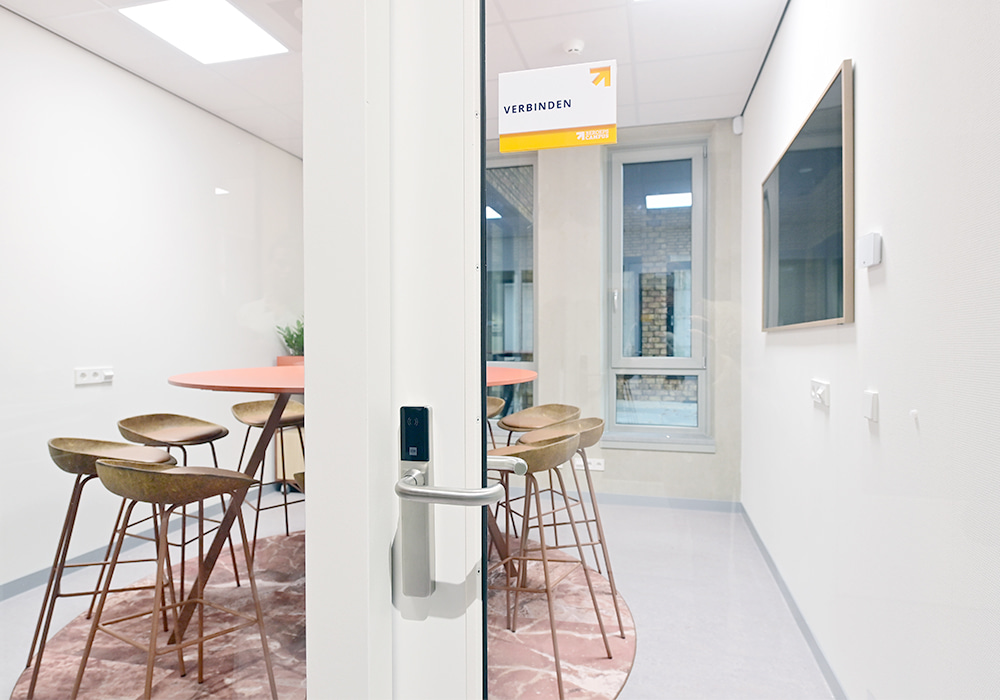 Eigen ingang voor restaurant
Via een aparte eigen ingang kan het restaurant van de school en de te huren vergaderruimtes van buitenaf bereikt worden zonder dat de gasten vervolgens de school in kunnen. "Die rechten kennen we niet toe aan de tags die de huurder van de ruimte krijgt. Ze kunnen naar binnen en gebruikmaken van de ruimtes die ze nodig hebben. Ook weer heel flexibel, makkelijk en veilig."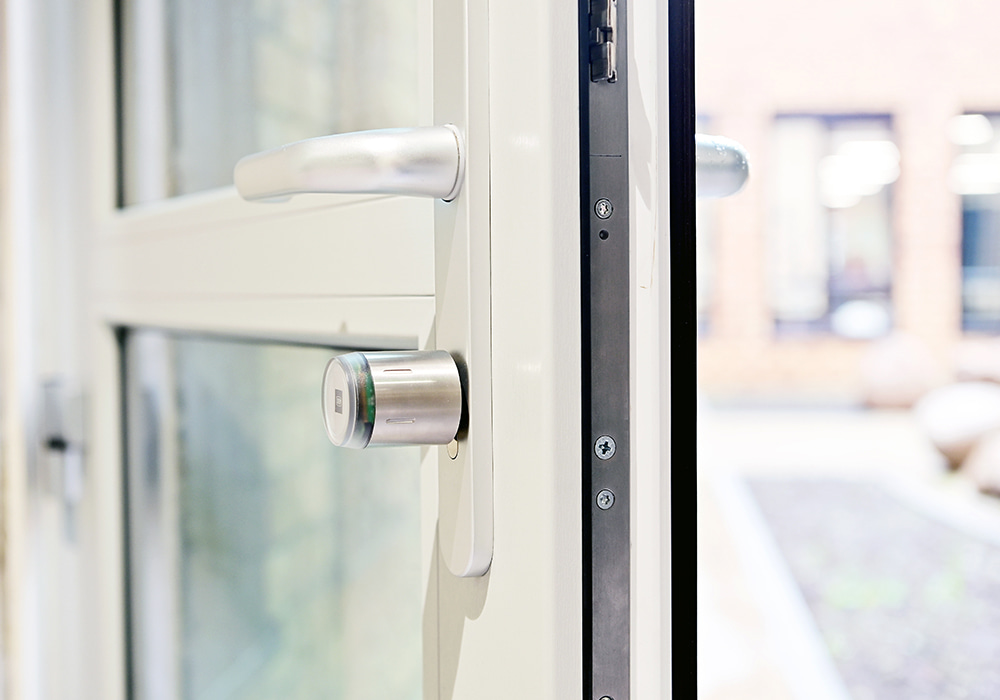 Access control works for you
"Good access control works for you, we see another good example of that here on the Vocational Campus," says Boel. "By making the public areas freely accessible and locking the areas you don't want freely accessible, you create a building where everyone can find their way safely. It was a best spin to arrive at this locking plan, but we now have a safe and sound plan."
Installation of the DOM ENiQ Guard door hardware was carried out in two phases. "In the first phase, 114 Guard fittings and two Pro cylinders were delivered. In the second phase, another 70 Guard fittings and six Pro cylinders were delivered. So that means almost 190 doors have been equipped with our digital door hardware. And all employees not only have the digital key in their hands with our tag, but also access to their own safe and printer. Extras that add value within one access control platform.

Questions about DOM Guard digital handles or the possibilities for a project? Feel free to contact us at marcel.boel@dom-group.nl.