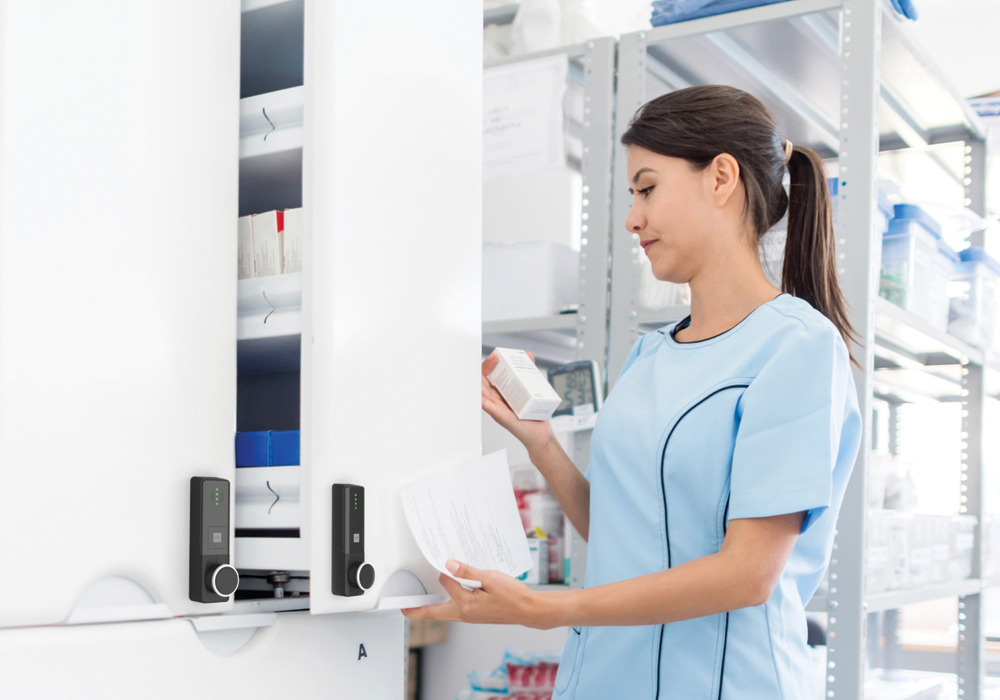 Controlling entry to and exit from individual rooms, the department to which the rooms belong and the central access doors of the building. But also control and insight into access to stock and medicine cabinets. These are some of the challenges that the new locking plan for the Emmalaan location in Leerdam belonging to the Syndion healthcare organisation had to meet. Together with DOM Nederland, a plan was drawn up that, according to Syndion project manager Jill Wolters, is "easy for the carers, does not cause stress and always works".

"Syndion is there for people - young and old - with a physical and/or mental handicap and people with non-congenital brain damage. Syndion offers various forms of support, organised on a small scale and in the midst of society. The Syndion working area covers the Drechtsteden, the Alblasserwaard, the Rivierengebied and the Land van Heusden and Altena," says Jill. In total, about 1,500 clients are supported by about 1,400 employees. "Despite these numbers, the small scale of our locations is key. This also applies to the location in Leerdam where care-intensive clients live.


"In the process, people would sometimes lose keys or not come back to us."

Most residents need one-to-one supervision and are not allowed to leave the ward or the building on their own. "This means that you actually have to be able to lock all the access doors, but that they can be opened easily by staff, clients' families and in emergencies. That alone is a complex process for which we used to walk around with huge sets of keys," Jill says. In addition, there were many keys in circulation because we were working with many temporary staff. "People sometimes lost their keys or did not return them to us.

No more hassle
The large key rings have now been exchanged for much smaller ones. "With a tag attached to them, employees can easily enter and leave the building and get to the areas and rooms they need to work in. Conveniently and clearly arranged within one software package so that the access control for the organisation and employees no longer causes any hassle," says account manager Melvin de Wever of DOM Nederland.
Much to Syndion's satisfaction. Jill: "The strength of the product is that it can be adapted as needed. This is important for us, because we have three types of employees with different access rights. The flexibility of the system makes it possible to set up such complex locking plans in a user-friendly way. It's great when you come in as an employee and you have your tag, which allows you to go in and out anywhere.

"It's great when you come in as an employee and you have a tag that allows you to go in and out.
A second major challenge in Syndion's new locking plan is the medicine and supply cabinets. Jill: "But also the kitchen cabinets and cabinets for the personal belongings of the employees must be able to be locked. Here, too, we used to work with many different keys, and employees sometimes missed one.

ENiQ® LoQ
DOM Netherlands used the ENiQ® LoQ for these cabinets. Melvin: "A high-quality furniture system that employees can also operate with a tag. ENiQ® LoQ contains the same electronics as the products used for the doors. This means that they can be controlled in the same software package.
For Syndion, this simple access registration offers even more ease of use. "We have to comply with conditions when it comes to medication procedures in order to give access to medication only to the supervisors who are supposed to have access. This ensures that the medication is stored safely and in accordance with the guidelines, giving us control over who has access," says Jill.

"We have to comply with conditions when it comes to medication procedures in order to give access to medication only to the carers who are supposed to have access.
Faster and better access
Looking back on the implementation of the new locking plan and the experiences of the staff in Leerdam, Jill is very enthusiastic. "For everyone, we have faster and better access to and within the building. Especially since we don't have to deal with all these little keys, but one tag that provides access. Moreover, we can easily manage the tags ourselves. Whether we need to create a new tag or block an existing one, the system is very user-friendly.
In addition, DOM Nederland deserves a compliment, because our questions were complex, but together we arrived at a very flexible and user-friendly yet secure locking plan."

More information about DOM ENiQ® LoQ and the temporary promotion with a free antibacterial coating button.