New Products To Be Unveiled at Security Essen 2016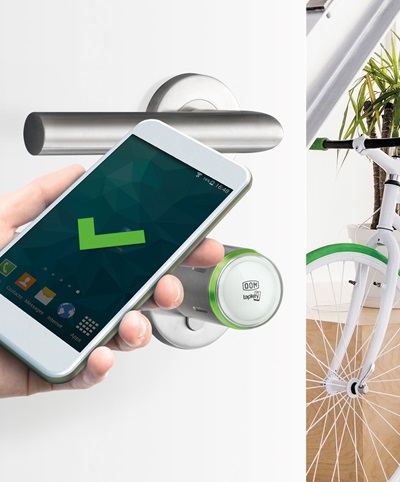 This September we have established a partnership with Tapkey, the Austrian creator of revolutionary smartphone-based digital-access software. We believe that we will change the way people gain—and share—access to homes and offices. "We are proud to introduce the best-of-breed teaming of DOM hardware and Tapkey secure cloud-based software at the Security Essen trade show in Germany," said Erik Mastenbroek, Group Marketing Director at DOM. The prestigious trade show runs September 27 – 30, 2016.
"Tapkey pioneered—and patented—the cloud-based software solution that transforms ordinary smartphones into extraordinarily smart digital keyrings," notes Tapkey CEO Gilbert Hödl. "It's the ideal way to bring exciting new functionality and ease of use to DOM's legendary hardware and electronics, such as digital cylinders, padlocks and wall readers."
Joerg Braun, who manages DOM's smartphone-enabled products, explains why the company was impressed with the Tapkey platform: "It's sophisticated yet versatile. Their expertise in scalable cloud services, mobile apps and digital security made them the perfect partner for us going forward."
By integrating Tapkey technology into its offerings, DOM allows end-users to unlock locks by simply tapping them with practically any NFC- (near-field communication) enabled smartphone which contains the matching Tapkey "mobile key." The Tapkey solution is unique in that, unlike competing technologies in this fast-growing space, it is not "slaved" to a particular phone number or wireless carrier; it doesn't even require a persistent Internet connection. Virtual "keys" can be shared—or revoked—as easily as sending a text message. "It's simple to access numerous Tapkey-enabled products, such as car-sharing access, with just one app," explains Tapkey COO Gregor Zehetner.
Tapkey and DOM will be unveiling their new products at Security Essen in Hall 10, Booth 10B08.