Alice is a graphic designer in a communication agency near Lyon. "Since the birth of my children, my weeks have been very busy. Living one hour from my workplace, my employer offered me to do 50% of my working time in a home office. "she explains. Working from home is not always easy, you need to have a good organization and above all a well defined space of your own. "To create an efficient workspace, I transformed the guest room into an office," adds Alice.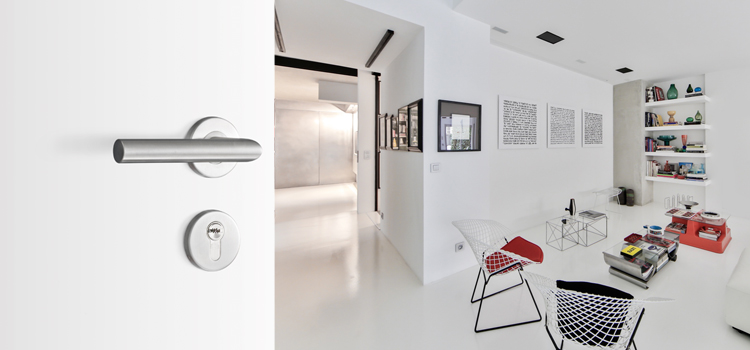 Being able to be quiet in a closed room is essential for concentration. "I like to work without being disturbed. I therefore needed a suitable lock for frequent comings and goings. I also have to call so I appreciate working with the door closed. The locksmith in my town offered me a DOM lock with a 1/2 turn magnetic bolt. Thanks to its magnetic system, this lock is discreet and can be closed with a light "click" without any effort. No need to slam the door every time I need to make a call, I'm won over! »

With its elegant and timeless design, the DOM lock with magnetic latch ½ tower fits perfectly into Alice's refined decoration. In addition, when the door is open, the bolt does not extend beyond the door, giving a modern and refined appearance, in line with the 2.0 desk installed in the room. Quick to install, this lock is reliable and durable because the magnetic striker reduces the friction of the bolt and thus the wear and tear of the product. This product is ideal for an interior door located in a room with a passage.


Discover our bolt lock ½ magnetic latch