Combined tests: VdS presents EN 1303 certificate for the ix TwinStar series for the first time
The VdS guidelines are adapted very quickly to new hazard potentials or burglary methods. Normally, VdS approvals also cover the corresponding European safety standards. Where this is not the case - e.g. with the VDS Guidelines for Lock Cylinders - VDS supports manufacturers with combined tests that save time and money and thus create additional value. The
DOM ix TwinStar
series
of the DOM Group has now received the first certification according to VdS 2156-1 and EN 1303.
The VdS-approved
DOM ix TwinStar
profile cylinders comply with the highest safety standards and make it almost impossible to overcome them, for example, with multiple locking authorization queries and the patented double roller. Previously, the locking cylinders "333IX STAR B" and "333IX STAR MB" already received VdS approval.
Dr. Thomas Kaiser, Head of Mechanics / Mechatronics Development Department at DOM, emphasized during the presentation at the headquarters in Brühl: "Thanks to the double test, both costs and efforts were significantly reduced and we are pleased to be able to prove the very high quality of the
DOM ix TwinStar series
with this certification directly at first sight.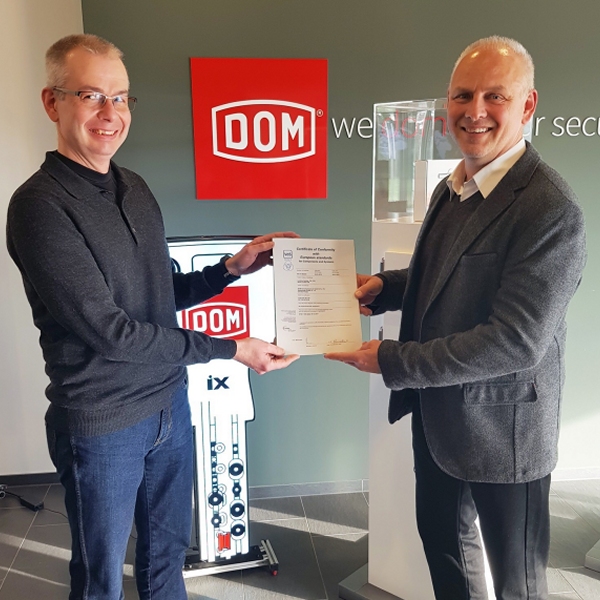 Image: Handover of the first locking cylinder certificate issued by VdS in accordance with EN 1303: left Dr. Thomas Kaiser, Head of Mechanics / Mechatronics Development Dept. at DOM, right VdS Managing Director Thomas Urban