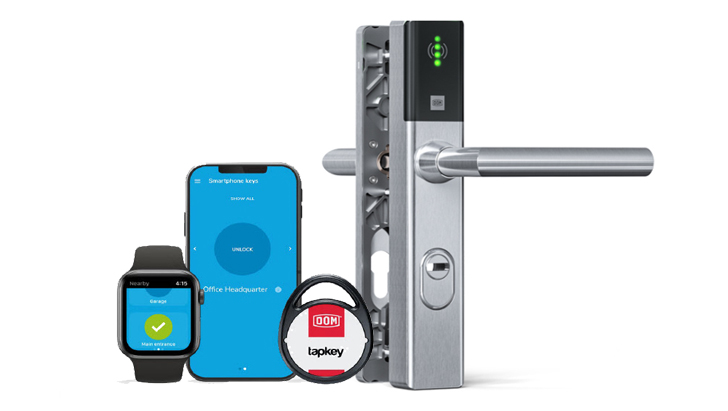 Do you already know our newest family member?
The Guard S belongs to the Guard family and is a variant that has been specially developed for outdoor use. The digital security handle defies the weather and is ready to protect your building under the highest demands.
With its reinforced external housing, IP66 protection class, and drilling and cylinder protection, the Guard S is the ideal addition to secure your building from the outside, even in locations at risk of vandalism.
Versatile in use, whether private or commercial:
▶ Residential buildings
▶ Office and administration buildings
▶ Hospitals and care facilities
▶ Banks and hotels
▶ Schools and universities
▶ Shopping centres, restaurants, etc.
Benefits
▶ Protection from different weather conditions
The Guard S is designed for outdoor use and complies with protection class IP66, i.e. it can withstand dry, damp or wet weather conditions.
▶ Kompatibel mit anderen DOM-Produkten
For maximum compatibility, the Guard S is available in ENiQ, Tapkey and ELS systems.
This means it can be used with 13.56 MHz and 125 kHz RFID transponders, as well as with smartphones via NFC and Bluetooth Low Energy.
▶ Enjoy the long battery life of the Guard S with lithium AAA batteries with up to 70,000 battery cycles.
▶ Elegance meets safety
The Guard S is available in three design variants: Slimline (for tubular frames), Wideline and Wideline with round rosette on the inside. rose on the inside, suitable for for new and renovated doors.
▶ Strong handle
Handles are guaranteed with handle class 4, robust and resistant to vandalism.
▶ User-friendly signalling
Intuitive virtual and acoustic signalling.
▶ Flexible
Thanks to the adjustable mounting plate, the Guard S can be used in almost all door situations.
Learn more about our new digital security handle: